Al ver que nadie podia poner este programa full yo personalmente me puse a buscarlo y con este si bas a poder usarlo full…… LEAN COMO SE INSTALA POR QUE NO LES CONTESTARE ESPERO QUE DIOS LES ALLA
DADO USO DE RAZON PARA PODERLO BAJAR Y DAR UNOS CLIK…….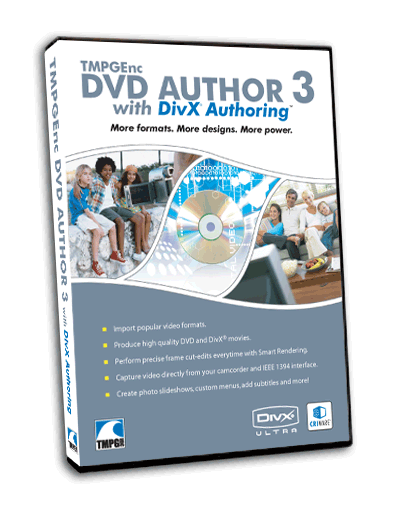 Programa autoria de dvd para crear tus propios dvd a partir de un video cualquiera, parecido al ulead pero mas sencillo de utilizar, yo por lo menos lo uso para crear un dvd sin menu, o sea cuando se necesita que sea menos producido, pero igualmente tiene la opcion de crear un menu rapido y sencillo.
REQUISITOS:
WindowsXP SP2(Home, Pro, Media Center)
Windows Vista / Vista SP1 (Ultimate, Home Premium, Home Basic, Business),
Windows2000 (Recommending the use with administrator authority)
Pentium® 4 2 GHz
512MB or more ( RECOMENDADO 1024MB )
DirectX 9
LINK:
http://rapidshare.com/files/69513299/TMPGEnc.DVD.Author.v3.0.8.158_Full.rar
SE DESCOMPRIME CON:
www.elwater.cl
INSTRUCCIONES:
MIRA LO PRIMERO QUE DEVES HACER ES INSTALAR EL PROGRAMA Y REINICIA LA COMPUTADORA
YA REINISIADA LA COMPUTADORA NO ABRAS EL PROGRAMA AUN,…… VE DIRECTAMENTE A LA MISMA CARPETA QUE DESCOMPRIMISTES CON EL RAR ADENTRO DE ESA CARPETA VIENE UNA QUE DICE ACTIVATOR
ALLI ESTA TDA30_Activator_En.exe ESE COPEALO NO LO ABRAS LLEVATELO A DONDE SE INSTALO EL PROGRAMA
POR SI NO SAVES DONDE SE INSTALO TE EXPLICO VETE A
MI PC, DISCO LOCAL, ARHIVO DEL PROGRAMA,PAGASYS ALLY PEGAS EL TDA30_Activator_En.exe
Y DALE ACTIVARRRRRRRRRRRRRR….. Y AHORA LISTO YA PUEDES USAR EL PROGRAMA..
A FUERZAS TIENE QUE ESTAR FULL.
SI NO ENTENDISTES ES POR QUE NO TE DIO DIOS USO DE RAZON ASI QUE BUSCA AYUDA PROFECIONAL…